Where i bought my jewellery display stands
Here's where I've ordered my bracelet display stand - http://s.click.aliexpress.com/e/jQf2fe6qj
It's good quality and cost me only under 4 EUR including delivery.
Also, I've ordered this black velvet necklace display stand, but it hasn't arrived yet http://s.click.aliexpress.com/e/zJUfEIeMR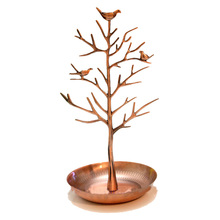 This one seems to be a nice jewellery holding stand, especially for rings. Not sure it'd be the best choice for using in stores, I'd rather have somthing more simple, but for storing own rings it may be great. You can purchase it from here
In general, I'm very glad to have found this Chinese site. Evidently, my local supplier has simply been buying stuff from there and selling to me with their interest. Even though this one isn't a bulk store (it has sme small bulk available still), it's still much cheaper to buy straight from Aliexpress sellers than the local ones.
Also,you might have some fun even before opening the package as the sender will read 'Ding Dong Feng' :) That's a mighty funny name to our European ears (not that it's real but it's close enough to the real Chinese names)))) I imagine they're cracking up hearing ours, too.
22/06/2015 Update.
So I've never gotten that necklace display stand from this Aliexpress seller. Instead, they've sent me a completely different display stand and it was crooked too, probably because it was poorly packaged. Anyhow, I've got refunded for that so that's cool. Only waisted my time though.
After having browsed through the trustworthy stores on Ali (those having high rating, preferably with a top seller's badge) I've concluded it wasn't advantageous for me to buy from there. Most would sell in small bulk and I only need one stand for making pictures. So I've gotten one locally. It's pretty cool.

Questions, comments, suggestions?

More tips and tricks on jewellery making: